PRISHTINA, Teatre Dodona – Through theater plays and interaction with audience, young activists promote information on reproductive health
From 16th to 27th November, NGO's Artpolis and Gheto in cooperation with Ministry of Education and support of UNFPA organized series of local events promoting youth activism for reproductive health. In Prishtina, Gjakova, Mitrovica, Gjilan, Ferizaj, Suhareka, and Fushe Kosova, high school students gathered in local cultural facilities to see a theatre performance, screening of short films on HIV/AIDS, and a photo exhibition.
The theatre performance called Vetem 17 I kam/I am only 17" was rehearsed by 4 professional and 4 youth actors. The main story line of the play portrays a 17 year old girl having doubts, opinions and decisions on the family planning choices discussed and confronted with her peers, parents, teacher, and herself. Such story offers excellent chance how to deliver many important unbiased messages and raise awareness and knowledge on reproductive health issues among youth.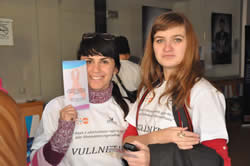 As the play ended, the programme continued with post-performance discussions, providing audience with opportunity to ask the actors any questions regarding their role. Among the youth in the audience, this part of the event generated huge interest to further discuss the issues raised during the play.
In the end, at the door, young volunteers distributed brochures with information on reproductive health and rights. In each of the 7 municipalities, every event had around 120 – 200 audience members, students and teachers, reaching 1000 people in total that benefited from this project financed by UNFPA.