Everyone has the right to enjoy reproductive health, which is a basis for having healthy children, intimate relationships and happy families. Reproductive health encompasses key areas of the UNFPA vision.
Delivering a world where every pregnancy is wanted, every childbirth is safe, and every young person's potential is fulfilled.
Reproductive health problems remain the leading cause of ill health and death for women of childbearing age worldwide. Impoverished women, especially those living in developing countries, suffer disproportionately from unintended pregnancies, maternal death and disability, sexually transmitted infections including HIV, gender-based violence and other problems related to their reproductive system and sexual behaviour. Because young people often face barriers in trying to get the information or care they need, adolescent reproductive health is another important focus of UNFPA programming. And all programming relies on the availability of essential supplies.
What is reproductive health?
Within the framework of WHO's definition of health as a state of complete physical, mental and social well-being, and not merely the absence of disease or infirmity, reproductive health addresses:
• The reproductive processes, functions and system at all stages of life
• Health of women, men and young people, and entire communities and nations
• Ability to have a responsible, satisfying and safe sex life
• Capability to reproduce and the freedom to decide if, when and how often to do so.
What are reproductive rights?
Attaining the goals of sustainable, equitable development requires that individuals are able to exercise control over their sexual and reproductive lives. This includes the rights to:
• Reproductive decision-making, including voluntary choice in marriage, family formation and determination of the number, timing and spacing of one's children
• Access to appropriate health care services that will enable women to go safely through pregnancy and childbirth and provide couples with the best chance of having a healthy infant
• Equality and equity for men and women, to enable individuals to make free and informed choices in all spheres of life, free from discrimination based on gender
• Sexual and reproductive security, including freedom from sexual violence and coercion, and the right to privacy.
Supporting the Constellation of Reproductive Rights
Reproductive rights were clarified and endorsed internationally in the Cairo Consensus that emerged from the 1994 International Conference on Population and Development. This constellation of rights, embracing fundamental human rights established by earlier treaties, was reaffirmed at the Beijing Conference and various international and regional agreements since, as well as in many national laws. They include the right to decide the number, timing and spacing of children, the right to voluntarily marry and establish a family, and the right to the highest attainable standard of health, among others.
UNFPA Kosovo interventions to improve Sexual and Reproductive Health and Rights
One of the ways UNFPA can be most effective in protecting reproductive rights is by influencing policy and legislation. For example, the Fund aims to work closely with parliamentarians and is involved in advocacy efforts to realize reproductive rights and the other goals set forth in the ICPD.
Expanding on its ongoing cooperation, UNFPA Kosovo is dedicated to build partnerships and support theMinistry of Health and key health institutions to develop,  revise, disseminate and implement improvements in legislation and management of health care system.
Concretely, the Fund supports strategies that elaborate in depth on the issues and offer concrete solutions how to strengthen capacities of health providers to be able to provide accurate information, services and referrals regarding sexual and reproductive health, such as:
– Maternal, Child, and Reproductive Health Strategy endorsed by the Ministry of Health;
– Protocol on Cervical Cancer Screenings and Sexually Transmitted Infections (STIs);
– Guidelines and Protocols on Syndrome Management of STIs;
– Trainings on Youth Friendly Health Services in Medical Family Health Centers
– Developing of curricula and support of trainings on Logistic Management and Information System (LMIS) for contraceptive distribution
– Strengthening professional health associations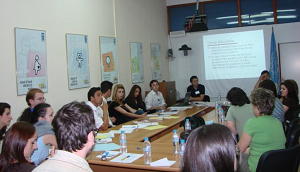 Through appropriate actions, UNFPA calls to ensure reproductive health commodity security by developing contraceptive management system, so all individuals in Kosovo could obtain and use quality reproductive health supplies of their choice whenever they need them.
UNFPA supports organization of family planning sessions and sexual and reproductive health in communities with focus on the marginalized one. Besides family planning, the sessions provide information on healthy practices before, during and after pregnancy such as nutrition, hygiene, breastfeeding, as well as inform about common symptoms on to recognize general health problems in order to ensure healthy lives of both mother and child. The sessions are carried by trained health volunteers, who are often also respected members of the communities.