UNFPA: Delivering a world where every pregnancy is wanted,
every childbirth is safe and every young person's potential fulfilled.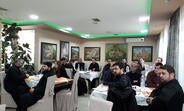 29 June 2017
Trainings for the Religious Studies Teachers
Within the project UNFPA organized three training for religious studies teachers. Two were held in Mitrovica North and one in Gnjilane. Topics were: "Building a culture of equal rights, opportunities and responsibilities through educational process" and "Developing activism and volunteerism with students." 26 teachers from
5 May 2015
UNFPA office in Kosovo in close collaboration with WHO and in partnership with the Association of Kosovo Midwives has marked the Midwives' day on May 5th 2015. On this occasion a roundtable discussion has been organized, with participation of high level officers from the Ministry of health, midwives and other health

This publication presents the results of the causes of death for 2008 and 2009 in an...
No vacancies currently available